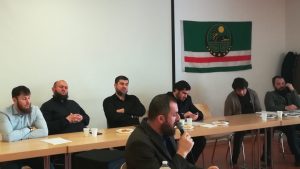 Assalamualaikum brothers and sisters!
Bart-Marsho is planning to hold the next conference in Strasbourg on Saturday, September 7, in honor of the Independence Day of the Chechen Republic of Ichkeria. The main theme of the conference, in addition to the historic date of Independence Day on September 6, 1991, will be the issue of political disunity in the Ichkerian rows.
As the head of Bart-Marsho, an organization that has been making efforts to consolidate all the Ichkerian forces since its establishment, I intend to read out a report on the state of our affairs, the results of the investigation into the legitimacy of the current Ichkerian governments conducted at the end of 2017, and the political deadlock in which we were driven by their competition in the most difficult period requiring unity.
Bart-Marsho members, and in particular the seven members of the investigation team from among them, waited two years in the hope that the competing parties would be aware of the historical need for unity and understand the essence of Bart-Marsho's proposals to achieve it. Therefore, the results of the investigation have not yet been published.
For two years, the goal was to let the passions rest after discussing a painful topic without touching on the details of the investigation of anybody's feelings, so that they could reflect soberly on our proposal, despite the fact that many patriots of Ichkeria called on us not to waste time on politicians who had outlived their political resources. But I am in favour of using every opportunity to achieve a balanced society and to give all politicians a chance to realize the strategic goal of this historical period, without pressure, to settle down, without hurting anybody's honor.
All these measures, which have been extremely gentle on the psyche of our politicians, have not yielded any results. It is obvious that they are no longer capable of political achievements and are not even able to pass the baton in a dignified manner, and worse, they are an obstacle to the further development of the political process in Ichkeria.
All those who are willing to read the reports on this topic or listen to them are waiting for the conference on September 7th in Strasbourg. The details of the conference venue will be clarified closer to the date of the event.